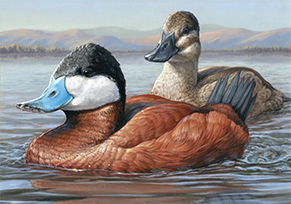 Waterfowl hunters in the United States will have to pay a bit more for the privilege next season when the price of the required Federal Duck Stamp will increase by $10.
The U.S. Senate passed the Duck Stamp Act of 2014 on Tuesday, a measure that would boost the price of the federal duck stamp to $25 beginning with the 2015-2016 stamp. The U.S. House of Representatives had passed the bill in November. The bill now goes to President Obama for his signature.
The Federal Duck Stamp program, which began in 1934, has raised more than $750 million and protected 6 million acres of waterfowl habitat. Duck stamp money is used to purchase acreage for the National Wildlife Refuge System, as well as to lease and conserve other important waterfowl habitat. The program is often touted as one of the most efficient conservation efforts in North America, with 98 cents of every dollar going directly to secure habitat.
Proponents of the price increase point to the fact that the stamp has been $15 since 1991, and land values have risen dramatically since then. The additional revenue — projected to be at least $12 million annually — will boost the purchasing power of the stamp fund.
The 2015-2016 stamp will feature a pair of ruddy ducks painted by Jennifer Miller of Olean, N.Y.